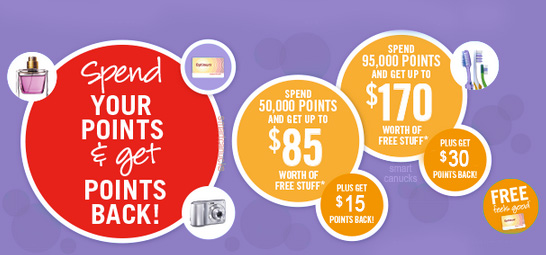 If you have been saving up those Shoppers Drug Mart Optimum points for a bonus redemption, get ready to spend them!  This weekend, Shoppers Drug Mart will have a Spend Your Points & Get Points Back promotion.  Surprisingly with Valentine's Day so soon, it is not a beauty redemption and you can redeem for almost anything in the store.
Spend 50,000 Optimum points and get $85 worth of free stuff plus $15 in points back
Spend 95,000 Optimum points and get $170 worth of free stuff plus $30 in points back
While these redemptions are not great for those high ticket items like electronics, they usually value the points at the closest value.  So $30 in points is likely 22,000 – worth around $45 at regular bonus redemptions and close to $40 if redeemed at the highest level on a regular day.
What is on your bonus redemption shopping list?