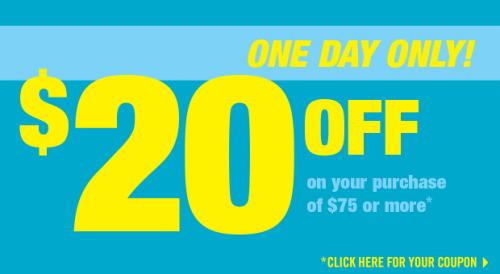 Shoppers Drug Mart have a new printable coupon available for $20 off when you spend $75 or more on Wednesday 3 December.  If you are looking to build up your points balance after redeeming on the weekend, today's offer of 18,500 Optimum points when you spend $75 may be a better deal for you, the points are worth almost $39 at a bonus redemption event. However, if you prefer to save money over saving up your points until they are worth that much, you can print your coupon by clicking here.
Remember that you can use coupons to reduce your out of pocket total and still save. Here are just some of the coupons you can use to save this week, click here to see a full list of coupon matchups.
Clover Leaf Flavoured Tuna $1.99 – $1 (tear pad) = .99
Lean Cuisine $1.99 – $1 (printable) = .99
International Delight $1.99 – .50 (tear pad) = $1.49
Fructis Hair Care $2.99 – $1 (various) = $1.99
Dawn Dish Soap $1.99 – $2 WUB 2 (brandsaver) = .99
Pantene $3.99 – $2 (printable) = $1.99
Secret $2.99 – $1 (brandsaver) = $1.99
As always, this offer excludes prescription purchases, insulin, products with codeine, tobacco products (where applicable), stamps, milk where discounts are prohibited by law, passport photos, lottery tickets, event tickets, transit tickets and passes, electronic gift cards, prepaid phone cards, prestige cosmetics and fragrances, and Shoppers Home Health Care locations.