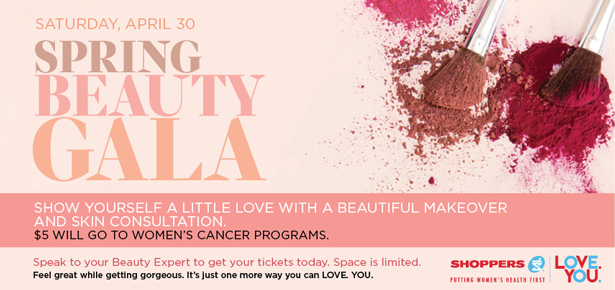 If you want to change your makeup look for the warmer weather and are not sure what to buy, the spring beauty gala will be held on Saturday 30th April.  Tickets to the event are available for $10, with $5 donated to Beauty Gives Back with a makeover and skin consultation included.  The remaining $5 is redeemable on any purchase made at Shoppers Drug mart during the event as a one day coupon plus stores will have gifts with your ticket purchase.
Makeovers and skin consultations vary by store.  I regularly shop at three local Shoppers Drug Mart stores, the one that does the best makeovers and has a wider selection of high end brands does the bare advertised specials for these event while the smaller store bakes goodies, holds additional contests and gets extra freebies for customers. One even had someone doing manicures for an additional donation.
The gift bags have varied over the years and also vary by store.  In one, they had clear bags where you could choose what you wanted while the fall one had stapled white bags and one of the lipsticks I received had even been used so it is worth finding that perfect store for this event.
Shoppers Drug Mart usually as a 20x beauty promotion and brand offers to coincide with their beauty galas so expect that at the end of the month.