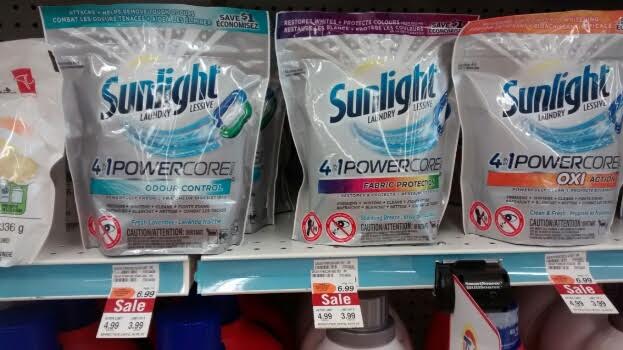 Yesterday, we mentioned that Sunlight Powercore was included in a sale at Fortinos for just $3.49.  While an amazing deal, this type is not specified in the flyer so hard to pricematch.
Forum member Poirot found that they were also included in the 2-day sale for Gain and Cheer at Shoppers Drug Mart.  Since I was out picking some up at Fortinos, I checked to see if this was in my area too or just a lucky find and they are!  Get up to four packs of 14-pack Sunlight Powercore laundry tabs at just $3.99 each during the Shoppers Drug Mart two day sale ending today.  Use this printable coupon to save $3 on any Sunlight Powercore product and pay just $0.99 per pack.  Since it is a Smartsource coupon, you can print two unique PIN coupons per computer.
They are $4.99 after the limit or if you can't make it to the store today.  While more expensive than Fortinos and not advertised to price-match, most of us will have a local Shoppers Drug Mart store to pick up this deal.  Coupons count towards spending limits for points when entered correctly so make sure that you load those personalized coupons.  The points may make this a hotter deal than Fortinos.