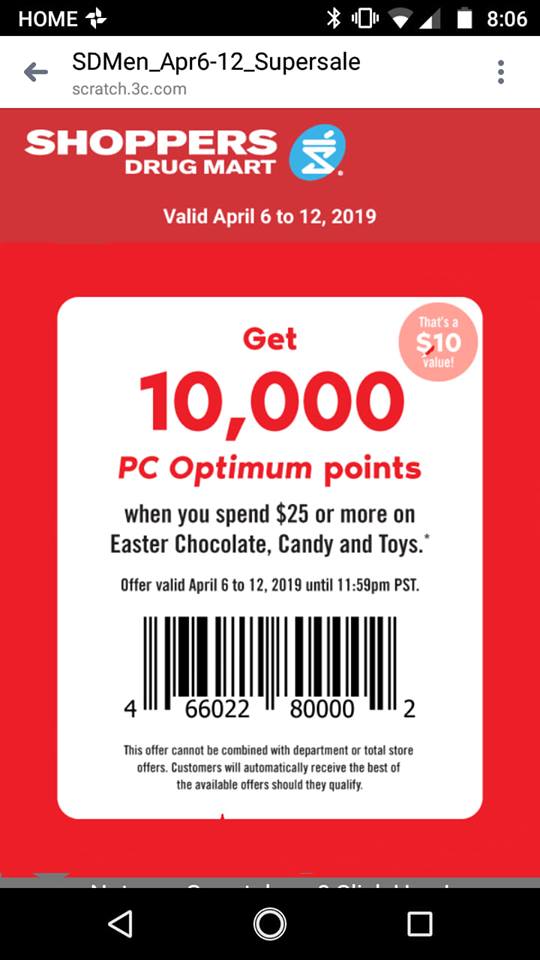 This weekend Shoppers Drug Mart is having a Super Sale, and they have a special text offer available that you may want to use! Text SUPERSALE to 736898, and you will receive this offer of 10.000 PC Optimum points when you spend $25 or more on Easter Chocolate, Candy, and Toys.
You don't actually have to text to get the offer if you haven't already. You can just use a screenshot of the image I have provided above. While this offer is valid all week long, from today until the 12th of April, you may want to use it this weekend in order to take advantage of some of the Super Sale pricing. This weekend only Lindt Bunnies are $3.99, Cadbury Mini Eggs 400g are $6.99, and Carnaby Bunnies and Chocolate Eggs 100g-175g are 3/$5. There are also plenty of toy deals this weekend, some with bonus PC Optimum point offers attached.
Click here to view the Shoppers Drug Mart flyer for this week.