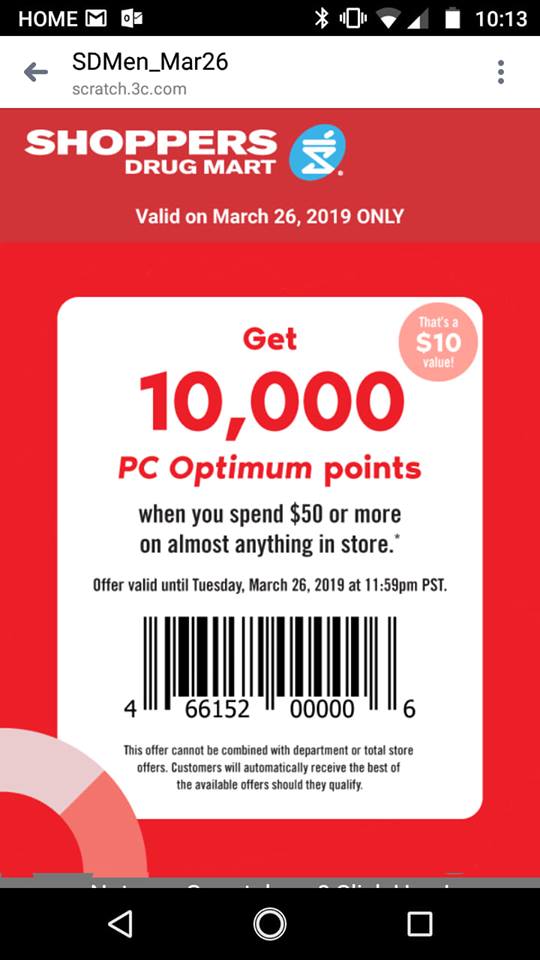 The Shoppers Drug Mart Tuesday text offer for today, March the 26th, is for 10,000 PC Optimum points when you spend $50 or more on nearly anything in the store.
If you did receive the text earlier in the day, then be sure to scan it, in addition to your PC Optimum card at the register. If you did not receive the text, you are still able to participate by using a screenshot of the offer, included in this post. Once used, your points will appear immediately on your receipt if you have met the requirement of spending $50.
You are able to use coupons to bring down your total spent out of pocket. Just be sure that your subtotal before taxes, and before coupons are applied, is $50. Manager's stickers, which are those stickers you see on products that say $2 off, etc., are not the same as manufacturer coupons, and cannot be used to bring down your out of pocket. If you have $50 worth of products and $10 worth of manager's stickers, then you only really have $40 worth of products and will need to add another $10.
Click here to view the Shoppers Drug Mart flyer for the week.