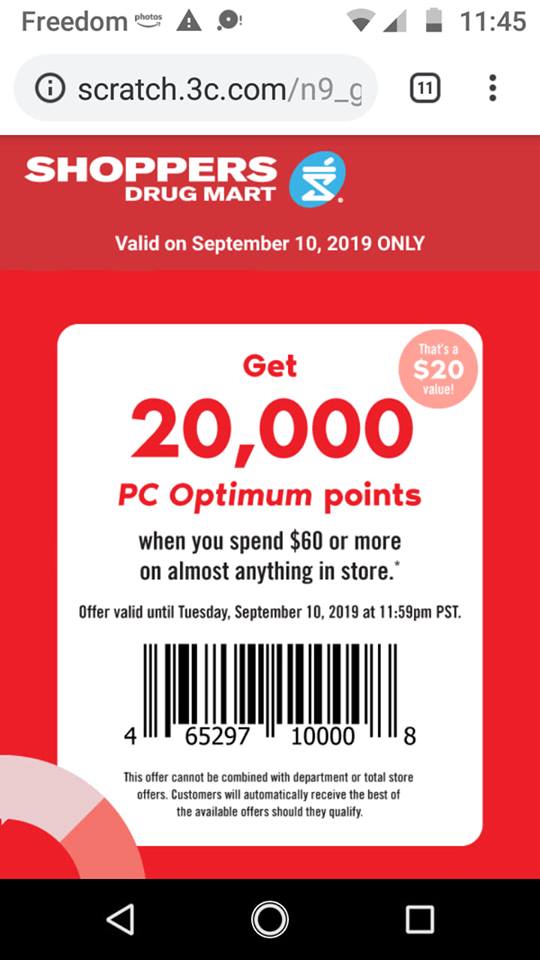 Today only, get 20,000 PC Optimum points when you spend $60 or more on nearly anything in the store at Shoppers Drug Mart Canada. This is the text offer for today only, Tuesday, September the 10th. Unlike your other personal offers which vary from person to person and expire after one use, the text offer is a generic offer that is the same for everyone. In this case, if you didn't get the offer by text, you are able to screenshot this offer and just use the screenshot.
While you are required to spend a little more than the usual $50 required for most 20x the points offer, this offer is also a little higher in value. A regular 20x the points is 30% return, while this particular offer is a 33.3% return in points. If you are new to the Optimum program, then just a reminder that this offer will not combine with your other offers that contain the words "when you spend," but it will combine with personal offers for specific products that also do not contain the words "when you spend."
Click here to view the Shoppes Drug Mart Canada flyer for this week.