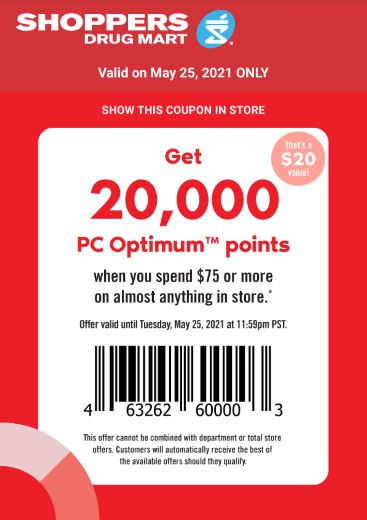 Today only, get 20,000 PC Optimum points when you spend $75 or more on nearly anything in the store at Shoppers Drug Mart Canada.
This offer came via text earlier today to those subscribed to receive these offer from Shoppers Drug Mart Canada. If you did not personally receive the offer you can still use it by scanning a screenshot of the image above. This is not a personal offer tied to any one account, and it does not expire after one use.
If you have to make a purchase larger than $75 you might want to wait for a 20x the points offer. Also, 20,000 points for spending $75 is not as high in value as a 20x the points offer which would get you 30% back in points, or roughly 25,000 points for spending the same amount.
Click here to view the Shoppers Drug Mart flyer for this week.