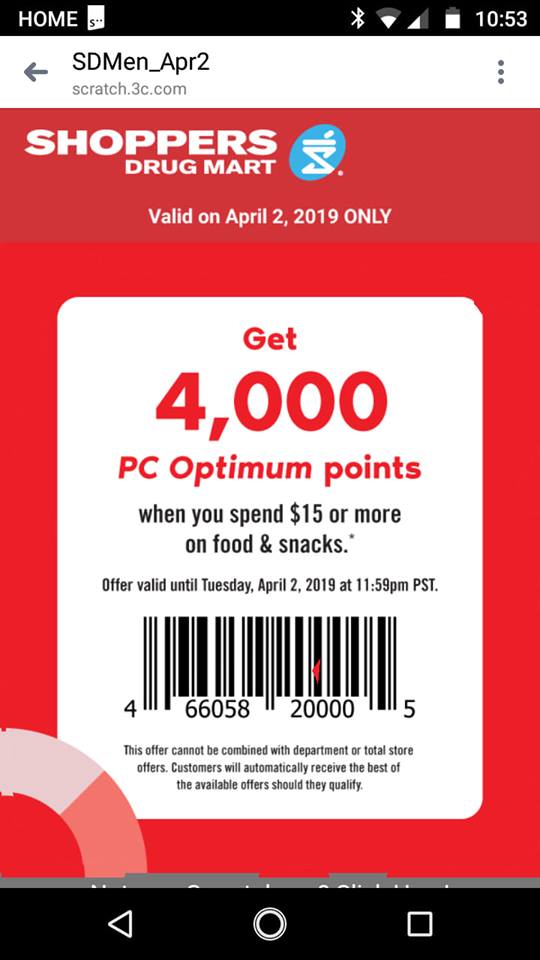 The Shoppers Drug Mart Tuesday text offer is available, and is a great one to use to pick up a few essentials. Today only, get 4,000 PC Optimum points when you spend $15 or more on food and snacks.
These offers are sent out by text, so if you are registered to receive them you should have gotten this one earlier today. If you are not registered you can easily use this offer by presenting a screenshot of the image above at the register in addition to your PC Optimum card.
If you have personal offers like 200 points per dollar on no name butter, 20x the points on milk, 200 points per dollar on Wonder Bread, etc., you can maximize this offer by combining it with those personal offers. Don't forget that if you pick up items with manager's stickers, you will have to spend $15 after those stickers, as they reduce the price of the item. For example if you have $15 worth of items with $5 in manager's stickers on them, you have only spent $10 and will need to spend another $5. You can use regular coupon to bring down the amount spent out of pocket however. If you had $5 in manufacturer's coupons you could pay $10 and still get the 4,000 points.
Click here to view the Shoppers Drug Mart flyer for this week.