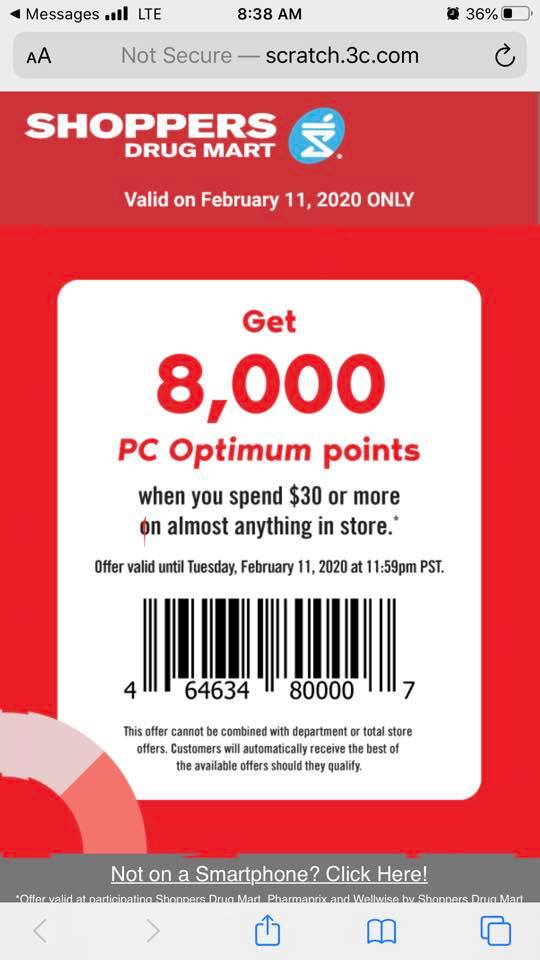 It is Tuesday, and that means that there is a text offer from Shoppers Drug Mart Canada available, valid for today only, Tuesday, February the 11th.
Get 8,000 PC Optimum points when you spend $30 or more on nearly anything in the store. This offer is not worth as much as a regular 20x the points offer. 20x the points is 30% back in points, so for spending $30, the equivalent would be $10 back. However, you need only spend $30 for this offer, and it's often much easier to spend $30 than it is to spend $50, so you may want to do this one. If you pick up essentials like milk, and throw in a few other items, or use some of your high value and free product coupons, then you should easily be able to hit the $30 mark.
If you didn't receive the text then you can easily use the offer by capturing a screenshot of it from this post. Barcode offers are general offers that are not one time use, and are not unique to any one account.
Click here to view the Shoppers Drug Mart Canada flyer for this week.