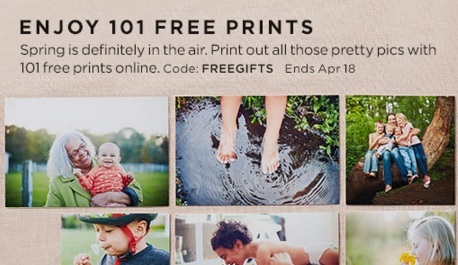 Miss out on Shutterfly's FREE print offer? or didn't have enough pictures yet? Shutterfly's 101 FREE PRINTS offer is back. Now until April 18, 2016 at 11:59 P.M. PT, you can get 101 4×6 or 4×4 prints free from Shutterfly, by entering promo code FREEGIFTS at checkout. You do not have to order all 101 prints to use this offer, order less and your order will still be free. Need more prints? Order more, and just pay the difference. Simply just select your photos either from your computer or your social media account, and select the size, checkout and enter promo code FREEGIFTS, and your total will be deducted the appropriate discount. Offer does not apply to other sizes or products. Offer cannot be redeemed more than once per account and/or billing address. Taxes, shipping and handling will apply. Prices shown online are in USD,
Shipping will vary depending on quantity of prints, shipping for 101 prints to Canada will be approximately $9.99 USD.
Click here to get your free prints now from Shutterfly.