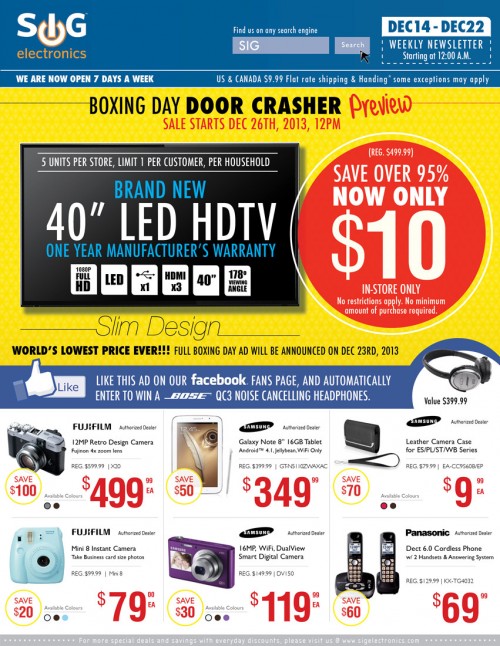 SIG Electronics has some amazing door crasher sales this coming Boxing Day 2013! Get your paws on some fantastic sales starting on Boxing Day Canada, December 26th at 12PM (Lunch). Stay tuned to Smart Canucks because SIG Electronics full boxing day advertisement will be announced in December 23rd 2013.
Shop at SIG Electronics during their Boxing Day Sales and you will receive:
Brand New 40″ LED HDTV In-Store Only for the World's Lowest Price ever of $10!! 

This deal is limited to 

5 per store

so line up for this Door Crasher!
FujiFilm 12MP Retro Design Camera – Save $100 – Only $499.99
Samsung Galaxy Note 8″ 16GB Tablet – Save $50 – Only $349.99
Samsung Leather Camera Case – Save $79 – Only $9.99
FujiFilm Mini Instant Camera – Save $20 – Only $79.99
Samsung 16MP Smart Digital Camera – Save $30 – Only $119.9
Panasonic Coreless Phone Pair – Save $60 – Only $69.99
Sorry for the long wait for these deals, you will definitely want to line up for the 40″ LED HDTV for only $10 since it is ridiculously cheap and only limited to 5 TV's per store. I would assume it is this TV but I could be wrong.  However hopefully the wait time would not be long (I predict it would be).

The lineup might look a little something like this.