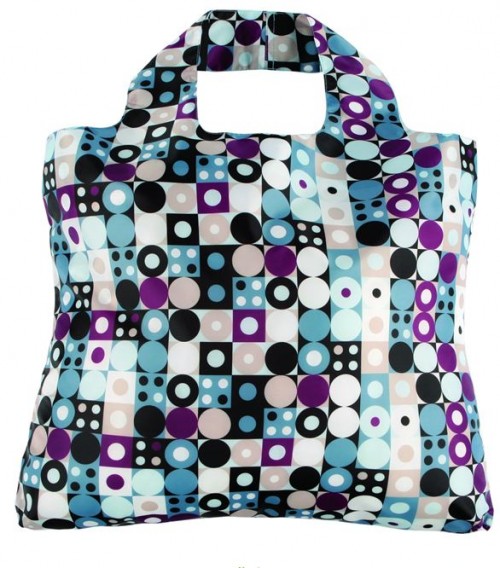 I am so excited that ECOcentricbags.com is sponsoring this contest!  I love their reusable products, not only are they functional but they are super mod and trendy.  I had the opportunity to try out a few of the diffent styles  ruMe, Envirosax, Baggu, Chico and the Flip and tumble.  I like and use them all.  I think my favourite is the Envirosax as there are more patterns to keep things fun.  They do cost a bit more then your average food mart bag but they are sewn better, wash up well, hold more weight, and so much more stylish then a large onion picture.
ECOcentricbags is offering a $50 gift certificate redeemable on their site to one lucky Smart Canucks entrant.  They also are offering a great 25% off coupon code for Smart Canuck readers by entering "Smartcanucks25" . Check out their Facebok page and when it meets 1000 fans they will post a 40% off coupon! 
Heres a bit more information on ECOcentricbags:
Based in Calgary, Canada, ECOcentric Bags was established in the summer of 2010 to address the growing need for eco-friendly products, and to play our role in making this world a better place.  We realize that there are big problems facing mankind. We face ongoing problems such as air pollution, water pollution, growing landfills, natural resources limitations, and so much more. All of this puts our planet, our society, and the next generation in great danger.  We believe that we all need to shift our minds towards conservation and sustainability. We need to consider the effects we have on our planet in our everyday activities.  We help you to make this shift and make a difference in the world through environmentally friendly bags. At ECOcentric Bags we offer huge selection of stylish eco bags, including reusable shopping bags, reusable produce bags, bags made from recycled and repurposed materials, and organic bags such as bamboo bags, organic cotton bags and hemp bags.  In addition to being eco-friendly, all bags we offer are made with creativity and style in mind. Turn your experience of "going green" into a fun adventure!
To enter the contest all you have to do is head on over to ECOcentricbags.com and choose what you would buy with your $50 gift certificate and post your choices here.
Here are the contest rules:
* One entry per household i.e. you may only leave 1 comment on the blog. If you want to discuss anything or share your thoughts please include it in that 1 comment.
*Age of majority only
*Canada only
*You may only win a max of 2 contests throughout the whole giveaways event to give others a chance to win
*Contest ends on December 8th 2010 at 2pm (est) and the winner willl be announced shortly after
* You must use a valid email so I can contact you with details on how to claim your prize. Persons who enter with an alias(fake) email will foreit their prize and a new winner will be drawn.
Are you a business who wants to featured in one of our giveaways? Email me at Sally@ smartcanucks.ca (omit spaces)
*The Envirosax picture is the first design I bought a few years ago at a small artsy village. Its still as fab looking as the day I bought it.