Update: this only applies to members who registered before September 10th, 2006
If you registered after September 10th, 2006 Candies will only be for fun
I'm very excited to announce that SmartCanucks.ca forum is back with some interesting additions. I'm also giving away the iPod Nano I got from TD bank 🙂
I've been working on this idea for a couple of days and hopefully you'll like it. Remember when I mentioned last month that I would share my ad revenue with my visitors? I've been thinking of a way of rewarding visitors who post more and help out and therefore I came up with an idea…
Whenever you post a new topic on SmartCanucks.ca's forum you get 2 candies (not real candies, just points). When you reply to any topic you get quarter of a candy. When you have specific number of candies you can redeem them for actual gifts from me. Here is what you can redeem your Candies for:
500 candies: a small surprise gift chosen by me (Boo Radley) or one of my friends
900 candies: skincare cream (Vichy, RoC, etc.) or $15 gift card
1800 candies: an elegant bag or purse or $35 gift card
50000 candies: the iPod Nano I won from TD (first person only)
I'll also have candy events every now and then where many candies can be won. You can see the amount of candies you have under your name in the forum: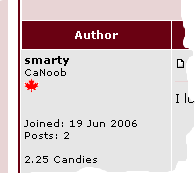 Note that this is not a means of paying you for helping out… this is just a way of having fun on SmartCanucks.ca and making use of the little revenue I make. Hopefully I'll get more sponsors soon and add more items to the above candy list 😉
What is your opinion of this idea? Do you have any ideas or suggestions?
This will not affect my blog posts which I will continue as usual.
oh, one more thing…
I'd like to thank all of you who have been helping out, suggesting deals and providing feedback. Special thanks go to:
Thilipan and nolookingca for their contributions.
David Peralty for his constant support and advice.
Intelmic for constantly and frequently providing feedback and commenting on the deals I post. Thank you Intelmic… & btw do you play UT?
vangirl, Joel, Mithel, Bobo, dawn maher, Tammy, ceci and Christina for their regular feedback
Kelly, John and Sara for mentioning my blog on their blog. There might be other blogs that I don't know of that mentioned my blog. If you did please let me know.
Canadian Mark and special k at work for their encouragement.
… and all of my visitors who pop in every now and then 🙂