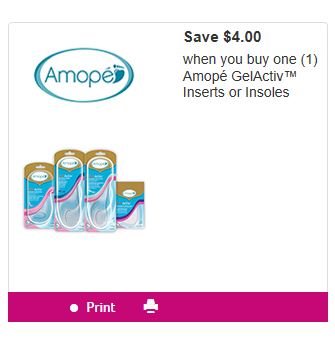 SmartSavee Canada has a new coupon available through their portal this morning. Save $4 on the purchase of Amope brand gel inserts or insoles with this coupon. These are usually available in limited quantities so be sure to sign in to your account soon to print the coupon.
Very strangely, there is also a "sold out" mail in rebate showing for these, although one was not recently available. Last week I did see a Canadian television commercial for a try me free for these Amope inserts through SmartSaver, and I have been checking daily since seeing the ad. Perhaps it would be wise to print the coupon in the event that the mail in rebate does become available.
If you aren't familiar with SmartSaver, there are a mix of coupons and mail in rebates available from time to time, and we can probably expect a new batch of mail in rebates shortly, so be sure to register for an account.
Click here to print your coupon for $4 off the purchase of Amope gel insole or inserts.