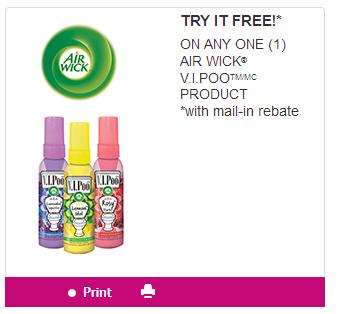 There is a new mail in rebate available through the SmartSaver savings portal. Try Air Wick V.I.Poo for free when you print this form, and mail it in with your proof of purchase.
The product must be purchased between October the 11th and November the 15th in order to qualify for the rebate, and this time around the maximum of the refund is $8.99. It was previously up to something like $14.99, so clearly the manufacturer has lowered the price of this item. Lately it sells for $9.99 regular price at Shoppers Drug Mart, which is much less then it used to be, but if you are picking it up there for the rebate you may want to wait until it is on sale.
You do have to print the rebate form to submit with your receipt, and these rebates are available in limited quantities. You will want to print the form as soon as possible if you plan on doing this one.
Click here to print your V.I.Poo mail in rebate form through SmartSaver.ca.