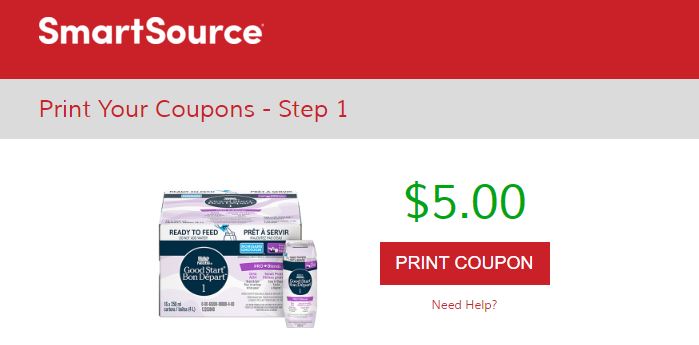 Those of you purchasing baby formula are probably always keeping an eye out for any coupons you may be able to find as this is definitely a costly item. If Nestle Good Start is the brand of formula that you purchase, there is currently a SmartSource printable coupon available for $5 off your next purchase.
This coupon has been available for some time it seems, so if you have printed it in the past you will not be able to print it again, unless you try other browsers and find one you have not yet printed it from. For those who have yet to print the coupon, SmartSource coupons can be printed twice per browser, so you can print it using Chrome, Firefox, Opera, and so on.
The regular size Nestle Good Start powder tub is on sale at Sobeys this week for $28.99, so with this coupon you will pay just $23.99 a tub.
Click here to print your coupon for $5 off the purchase of Nestle Good Start formula.