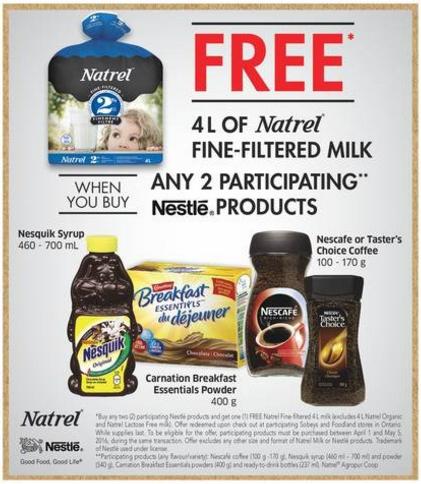 Here is a great offer form Sobeys Ontario in their upcoming flyer. Valid April the 29th to May the 5th, get a free 4L bag of Natrel Fine-Filtered Milk when you purchase any two participating Nestle products.
Participating products include Nesquik Syrup 460-700ml, Carnation Breakfast Essentials Powder 400g, and Nescafe or Taster's Choice Coffee 100-170g. The offer also includes the organic and lactose free varieties of Natrel, in case you do purchase those and were wondering. There were coupons for Natrel out there, so if you still have those you could certainly use them in conjunction with this offer. There are also coupons for the Carnation Breakfast Essentials, so while these products may cost slightly more at Sobeys, the use of coupons with this offer could make this a fairly good deal, particularly if you do purchase any of these products regularly.
Click here to view the Sobeys Ontario flyer, valid April the 29th to May the 5th.