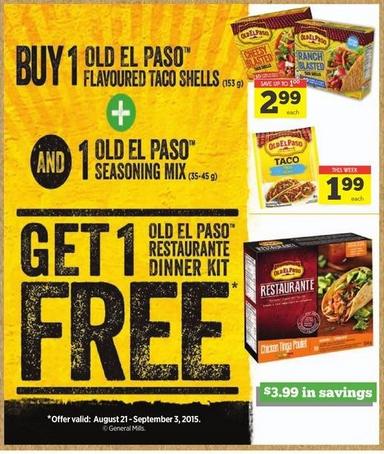 If taco night is a popular dinner choice in your household, then here is a great deal from Sobeys Ontario beginning August the 21st. Purchase any Old El Paso Flavoured Taco Shells, and one Old El Paso Seasoning Mix, and get one Old El Paso Restaurante Dinner Kit for free!
This is a particularly great offer if you purchase the kits anyway. I do, as I have someone who insists that tacos are not tacos unless they are hard shell tacos…so I just buy the kits with the hard shells and purchase soft tortillas separately. The flavoured taco shells come in two flavours, Cheesy Blasted, and the newer Ranch Blasted variety. The offer is valid from August the 21st to September the 3rd, 2015.
Don't forget that if you previously had the free coupon from General Mills for a free Restaurante seasoning packet that you could not redeem, you likely have a coupon for a free Restaurante kit on the way, so between this deal and the free coupon, you could be stocked up for taco night for quite some time!
Click here to view the Sobeys Ontario flyer beginning August the 21st.