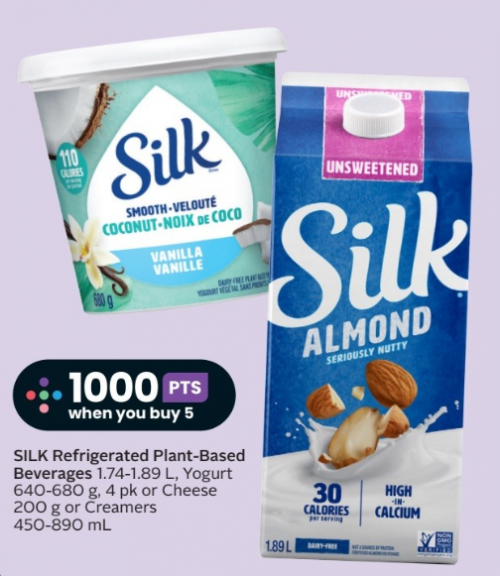 This week, purchase 5 Silk products at Sobeys Ontario and get 1,000 Scene+ Points, a value of $10! This offer is valid on Silk Plant-Based Beverages 1.74L-1.89L, Yogurt 640-680g, 4pk or Cheese 200g, or Creamers 450-890ml.
The Silk Creamers are priced at $2.99 this week, so if you purchase 5 of these the cost will be $14.95. You will receive the 1,000 Scene+ Points, which brings the cost of the Silk down to just $4.95, which is 99 cents each. There is a new tear pad out there that you might already have for $1 off the purchase of any Silk product. Use 5 of these coupons and your purchase is free! If you don't yet have the coupon you might even find it right in front of the product.
There is also a gift card offer at Sobeys this week. If you purchase $150 in Sobeys gift cards you will receive 1,000 Scene + Points.
Click here to view these offers in the Sobeys Ontario flyer.