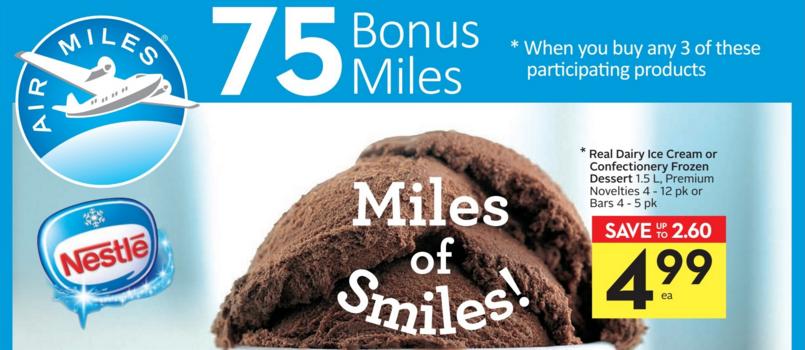 If you are an Air Miles collector with some freezer space to spare this week, then you may want to head to Sobeys Ontario for this great offer of bonus Air Miles reward miles on frozen Nestle treats.
From March the 24th to the 30th, get 75 bonus Air Miles reward miles when you purchase 3 participating Nestle products, which include Real Dairy Ice Cream or Confectionary Frozen Desserts 1.5L, Premium Novelties 4-12pk, or Bars 4-5pk. Each product is a savings of up to $2.60, and priced at $4.99.
With 75 bonus Air Miles rewards miles being the equivalent of about $7.50 in cash miles, you will be spending $14.97, but getting nearly half of that back in Air Miles. Your final cost per product is about $2.49 each.
Click here to view this offer in the Sobeys Ontario flyer valid March the 24th to the 30th.