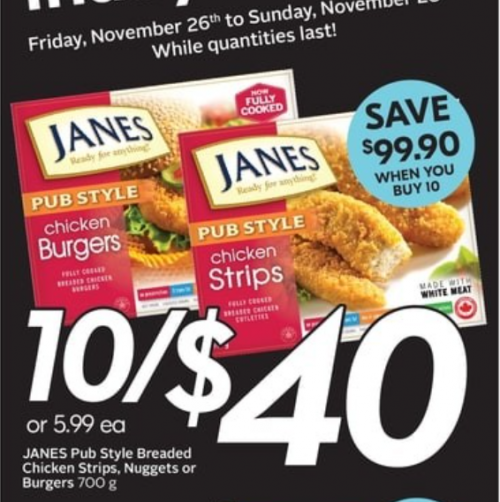 If you happen to have the freezer space and a family that goes through these very quickly, there is a deal for you on Janes Pub Style chicken products at Sobeys!
This deal does an today, but if you are heading there you can get 10 boxes of Janes Pub Style Breaded Chicken Strips, Nuggets, or Burgers 700g, for just $40. Although you would likely never pay the regular price for these, and regular price would be higher at Sobeys than some other retailers, this is a savings of $99.90. I would hope that no one out there has ever paid $13,99 for a box of Janes chicken nuggets, but this is a good price even if you only ever pay sale prices for the product.
There are some other great deals this week at Sobeys that you may be interested in, including an eight pound case of navel oranges for $3.99, and a seven litre case of Gala apples for $4.99.
Click here to view these offers in the Sobeys Ontario flyer.