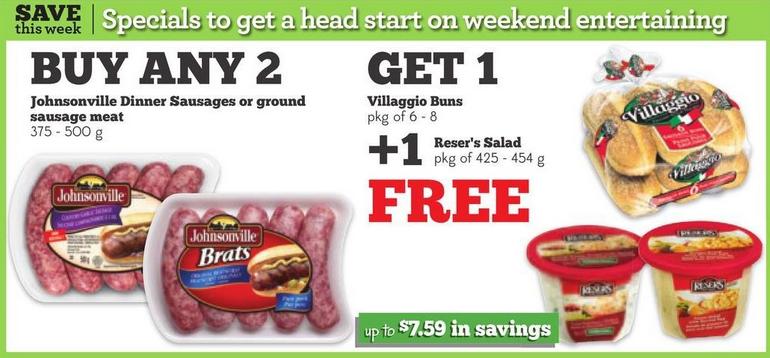 Sobeys Ontario has a great deal on some barbecue essentials this week! From July the 31st until August the 8th, purchase any two Johnsonville Dinner Sausages or Ground Sausage Meat 375-500g, and you will receive, for free, any package of 6-8 Villaggio buns, and a 425-454 tub of Reser's salad!
You may have $1 Johnsonville Sausage coupons that you received from contacting Johnsonville. If you send an email to the company they will mail out $1 coupons, so if you have not done so already make sure you do! Using those coupons makes this a much better deal, and the sausages may be on the pricier side at Sobeys at regular price. However, the free salad and the Villaggio buns have a value of about $7.59, so even if the sausages are approximately $4.99 at Sobeys, all 4 items at around $10 is a fairly good price.
Click here to view the Sobeys Ontario flyer valid from July the 31st to August the 6th.