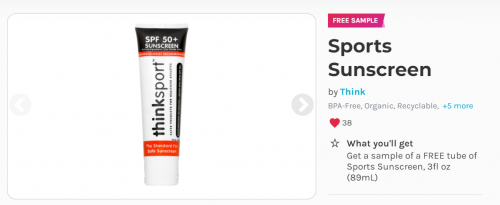 A couple of evenings ago there were two new free sample opportunities that came up from Social Nature Canada, and here is another new one. If you click the link below you can apply to try Think Sports Sunscreen for free!
You will be asked several questions, and should you qualify to try the sunscreen you will be mailed an 89ml tube with a value of $12.99. With most sample opportunities you are mailed a voucher to pick up the product yourself, but this one is being sent out. If you are offered the free sample to try, it is expected that you will review the product within two weeks of receiving it.
Some of you might also qualify to try the Think Gentle Baby Sunscreen as well.  These samples will be sent out sometime in March, and you should receive an email letting you know that your sample is on the way.
Click here to apply to try Think Sports Sunscreen through Social Nature Canada.