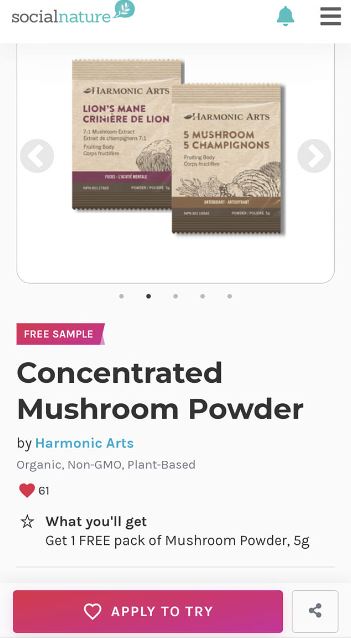 Social Nature Canada has a new sample opportunity available this evening. If you sign in to your account you can apply to try this Concentrated Mushroom Powder by Harmonic Arts.
Quite often Social Nature will mail out a voucher that you can take to a store to pick up the product yourself. In this case though , you will be mailed the sample itself. If you qualify for this one you will be sent one free pack of Mushroom Powder 5g, with a value of up to $7. You will be required to review your sample within a couple weeks of receiving it.
If you find that you aren't getting any sample offers from Social Nature make sure that you have completed any and all outstanding reviews that you might have. You are required to complete reviews for all of the samples that you receive, and if you haven't done so this will likely affect what you are offered.
Click here to get your free sample of Mushroom Powder by Harmonic Arts from Social Nature Canada.