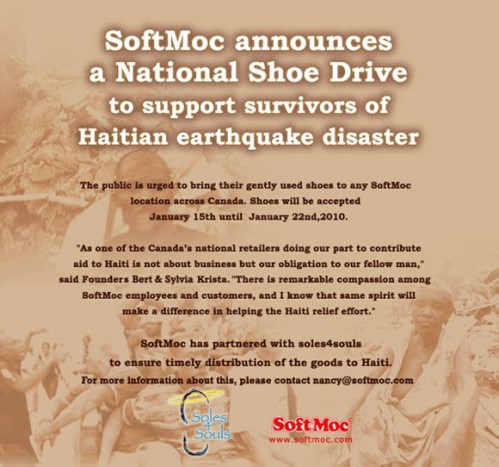 I just came across this thread by meguwo in the deals section and thought it needed to be seen by as many people as possible.  It's time to give back and here is a really easy way to make a big difference.
Hey everyone. I wasn't sure where to post this, but I know the deals section gets a lot of views and I know how generous all of us are on Smart Canucks. I just received this in my inbox and its a great way to help out the surivors of the earthquake in Haiti.
It's really easy. All you need to do is bring in your old shoes to any Soft Moc store across Canada between January 15-22. They will donate the shoes to help the survivors in Haiti.
I personally challenge each and every member of Smart Canucks that has a Soft Moc store near them to donate at least 1 pair of shoes. Everyone has to have an old pair of shoes that are no longer wearing. Just drop them off at your local shopping mall while you are running your usually errands. Take a picture and share it on this thread of your donation. Give a little, get a lot.
I know it's hard for everyone to donate money, but this is a really easy way to donate and help. Most of us have old pairs of shoes just collecting dust in our closets! Or, the shoes your kids may have outgrown.
Seventy percent of Haiti's population lives on less than $2 a day and half the 8.5 million population is unemployed.
There are more than 80 store across Canada! Find a Soft Moc Location Near You!
And here is the link to meguwo's original post, so you can take her challange and post your donation pictures!