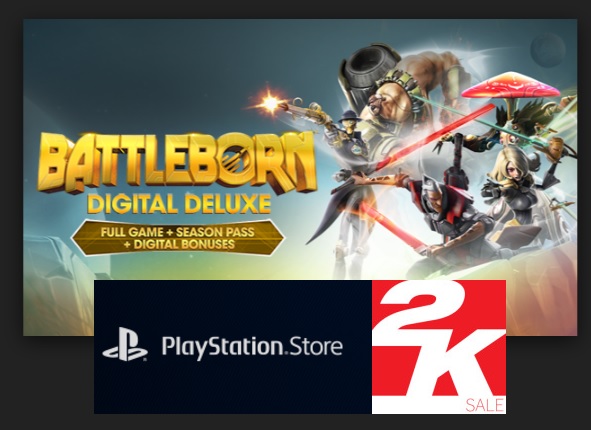 The Sony PlayStation Store Canada's weekly sale include:
2K sale up to 60% off
Other sale up to 80% off
From Sony's PlayStation's other sale, you can find Trails of Cold Steel add-ons free, and games as low as just $2.49! This week's sale ends September 13, 2016 at 11am. Prices shown online reflect discount.
Deals from this week's 2K games sale include:
For PS4:
Battleborn Digital Deluxe bundle  now $37.99 (was $94.99)
Battleborn full game now $31.99 (was $79.99)
WWE 2K16 Digital Deluxe Edition bundle now $51.99 (was $79.99)
Borderlands: The Handsome Collection full game now $27.99 ( was $69.99)
Evolve Ultimate Edition bundle now $23.99 (was $59.99)
Evolve Digital Deluxe Edition bundle now $21.59 (was $53.99)
Evolve full game now $18.79 (was $46.99)
WWE 2K16 Season Pass add-on now $12.49 (was $24.99)
Click here to check out Sony PlayStation Store's weekly deals.