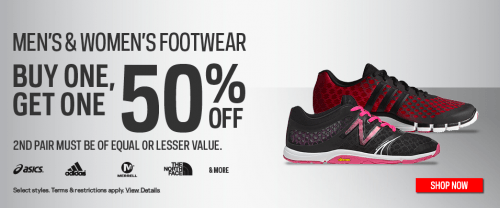 Sportchek Canada is running one of my favourite sales of the season, where they offer men's and women's footwear in a big buy one, get one for 50% off sale. This sale is one of my favourites as I need to update my running shoes at least once a year anyway, so what I'll normally do is stock up on my go-to pair and end up saving 25% off on my total purchase.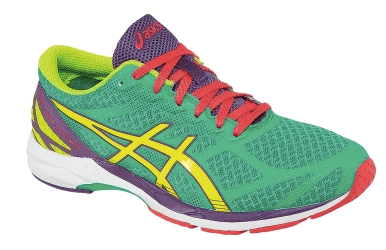 This year, I thought I'd make a switch from my regular Asics to a newer pair, like these Asics Gel DS Trainer 10 running women's running shoes. What I preferred about these shoes was that they were lightweight like a racing shoe, but were designed with a gel cushioning system that doesn't compromise the structural integrity of the shoe, which would make it an ideal shoe for long-distance running. Were I to buy two pairs of these, as they are included in the buy one, get one 50% off sale, then I would only have to pay $209.98. Normally, two pairs of Asics Gel DS Trainer 10 running shoes would cost $279.98.
You could also use this sale as a chance to pick up a new pair of running shoes, and a new pair of hiking shoes for the approaching trail season. These Merrell Siren Sport Falcon Women's Multi-Sport Shoes are currently being sold for $119.99, meaning that if I were to buy them with a new pair of running shoes (like the Asics) they would be discounted by half-off, as the less expensive pair of shoes will always be reduced.
Sportchek will be running the buy one, get one 50% off offer on all footwear until 6am EST on May 5th.
Sportchek offers free-shipping on all orders that are $99 or more.
Click here to begin shopping the buy one, get one 50% off sale on footwear.