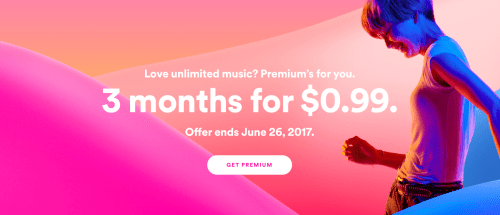 I'll try to not to get ahead of myself, but this offer from Spotify Canada is so crazy awesome it has my fingers quite literally shaking with excitement as I type this out. Right now, until June 26, 2017, you can get Spotify Premium – aka unlimited music – for three months for just one simple payment of $0.99.
Spotify normally costs $9.99/month, but with this offer you'll be getting three months for just under a dollar. This means that you'll be saving yourself a total of $28.98. It's free to cancel your subscription at any time, so if you just set yourself a little reminder to cancel your subscription one day before your three months is up, you won't be charged the full price for the next month.
Spotify Premium, for those of you not familiar with it, is a truly wonderful streaming service. You can listen with no ads, play as many songs as you like (which also means as many skips as you like!), listen offline and curate your own playlists to be played whenever and wherever you go – data free!
This is a great offer, but remember it will only be around until June 26, 2017.
Click here to get Spotify Premium for $0.99.