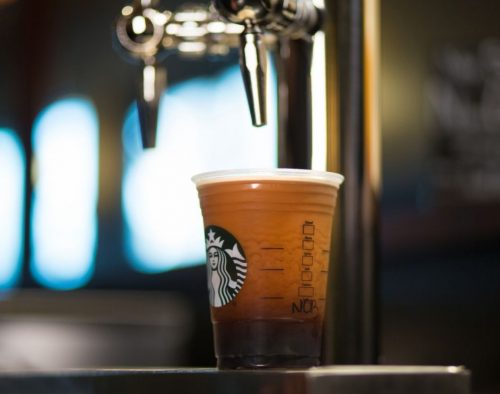 While the drink itself is brewed to be chillingly cold (through the infusion of nitrogen), Starbucks Nitro Cold Brew is definitely having a moment as one of the hottest drinks on the market. So it should come as no surprise to learn that Starbucks is capitalizing on this Guinness-esque coffee's popularity by installing machines in 1,500 new locations so that they can pump out the drink to more people across the the U.S. and Canada.
Canada got their first taste of this smooth coffee last year at Brookfield Place in Toronto, who have since helped to pilot the drinks popularity to have it now being installed in more locations across the country.
Nitro Cold Brew comes pumped and poured out of a machine similar to the kind you'd see at a bar or a keg. Because of the machinery involved in creating this drink, not all stores will be able to accommodate for the expansion. For those customers, they can instead use Starbucks Cold Brew bike, which rolled out earlier this year and functions as a delivery system for cold drinks.
Click here to learn more about the expansion of Nitro Cold Brew coffee from Starbucks.