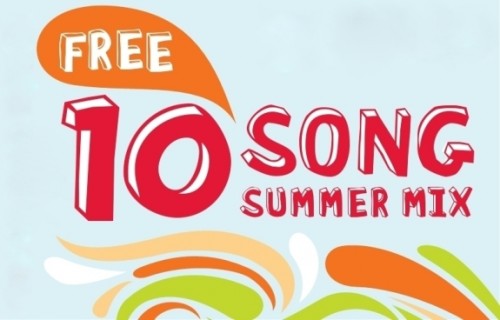 Megs sent me this via our suggest a deal form:
Frappuccino® blended beverage fans, your friends on the music team here at Starbucks have a gift for you.  Beginning June 6, when you purchase a Frappuccino® blended beverage, your barista will hand you a free 10-Song Summer Mix playlist of our favorites, available for download on iTunes while supplies last. Some of the artists may be familiar while others may be discoveries, but there's something for every summer activity.
 Death Cab for Cutie's breezy "Underneath the Sycamore" (U.S. only) may prompt you to pull out a blanket and basket and enjoy that Mocha Coconut Frappuccino® blended      beverage picnic-style with a friend, while Parts & Labor's "Rest" will likely cause you to open the sunroof, crank the music and head for open road. Booker T. Jones's twist on "Just a Friend" (featuring the song's writer, Biz Markie, as well as Sharon Jones, and the National's Matt Berninger) may spark a spontaneous dance party, so proceed with caution. Our friends We Are Augustines (former members of one of our favorites of all time, Pela), will make you want to give your bicycle (or motorcycle, if singer Billy McCarthy has any say) a spin on a dusty country road.
There are all kinds of moods to satisfy your summer needs, so go get yourself a Frappuccino® blended beverage, air out that dusty picnic blanket and polish your bike, 'cause it's time to bask in the sun with some killer music.
Click here for more information.  Apparently it seems some are having trouble using their mix card, hopefully the bugs will be worked out shortly.