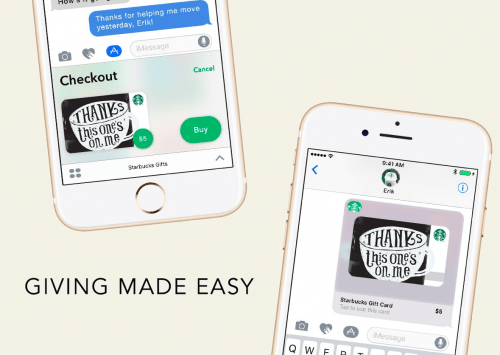 This is a kind of deal where you can do something nice for a friend, and also receive something nice in return, which never hurts! Right now, at Starbucks Canada, you can send a $5 or more Starbucks eGift card to a friend or family member using Starbucks Gifts in the iMessage App (so yes, this offer is an iPhone exclusive. Sorry Android users!) and qualify to receive a FREE $5 gift card for yourself!
This offer virtually makes your gift to your friend free, depending on how much you send to them, but the minimum amount that you'll have to send is $5.
There are a few steps that you'll have to go through to get your free $5 gift card, and if you don't already have the Starbucks Gift app added on your iMessage app you can read more about how to download it here. The following steps are for people who have already added the app to your iMessaging.
tap the app button in your iMessaging
tap the four dots (as shown above) in your app drawer
click on the Starbucks Gifts app
choose a value, and send your gift with Apple Pay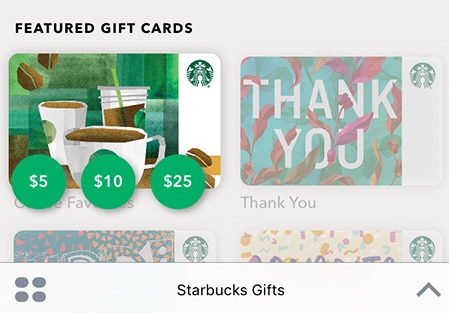 This offer will only be available while supplies lasts, and Starbucks is giving away 5,000 promotional gifts to customers who spend a minimum of $5 between April 6, 2017 and April 19, 2017. It is not a guarantee that you will receive this free gift if you buy between this period, as Starbucks is only giving the freebie away to the first 5,000 qualifiers (so the sooner you buy, the better your chances will be!)
This offer is open to legal residents of Canada who have an Apple Pay account, have downloaded the Starbucks Gifts for iMessage App with an iPhone 5S or above and are iOS 10.2.1 or above users.
Click here to learn more about the Starbucks Gift app for iMessaging from Apple.