Starbucks Store Canada is having a sale where you can save up to 30% off the regular price of various tea, coffees, and accessories! Plus, for a limited time only until July 3, 2016, you can save $20 off orders of $100!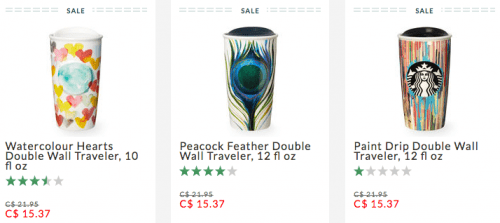 When you want to drink your morning coffee on the run, consider getting one of these beautiful Double Wall Travelers! From the left is the Watercolour Hearts version, the Peacock Feather image, and the Paint Drip style. They were normally $21.95 but are now all on sale for just $15.37.
Starbucks Store Canada has free shipping on orders of $75.
Click here to shop at Starbucks Store Canada.