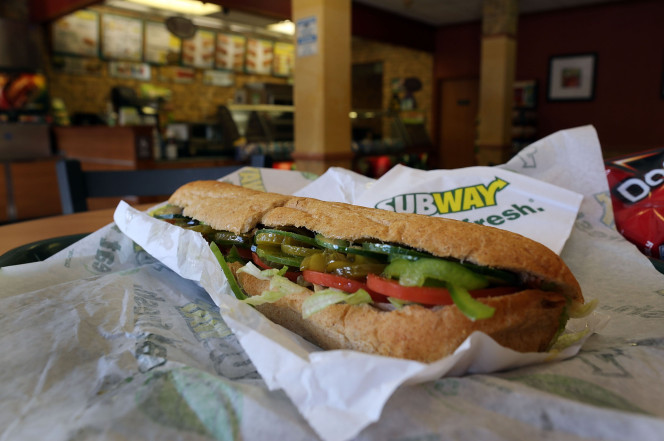 The other day, we talked about how Subway Canada's chicken was found by CBC Marketplace to be less than 50% chicken, and after allowing the dust to settle a bit from the investigation, Subway has decided to come out in a defence of their product.
After the story about Subway's chicken being more soy than chicken reached worldwide recognition, Subway came out and asked that CBC retract the story, claiming in a report that it was "absolutely false and misleading." CBC Marketplace has shot back and says that they completely stand by their findings, and have gone the lengths of even releasing the findings from their DNA analysis of Subway's chicken.
Subway refused to comment to the CBC about their product, but sent an email to the news station listing the ingredients they use in their chicken sandwiches, which they still claim are made with 100 percent white chicken meat and seasonings. The ingredient list included:
Chicken strips: Boneless, skinless, chicken breasts, water, soy protein concentrate, modified potato starch, sodium phosphate, potassium chloride, salt, maltodextrin, yeast extract, flavours, spices, dextrose, onion powder, carmelized sugar, paprika, chicken broth, vinegar solids, paprika extract.
Chicken patty: Chicken breast meat, water, seasoning (sea salt, sugar, chicken stock, salt, flavours, canola oil, onion powder, garlic powder, spice, chicken fat, honey), soy protein, sodium phosphates.
CBC has come out to clarify their results a bit more so that people understand when they say that Subway's chicken was found to be 50 percent chicken, that does not indicate an exact ratio but more of a representation. When they asked experts from the University of Guelph about their findings they agreed that DNA results "cannot be taken as exact mass ratios in the product," but the results are a good indicator of how much soy is in Subway's chicken.
CBC Marketplace also did a video about tasting fast food chicken that you can check out here, and you can read the CBC's original article that has garnered so much attention here.