I came across very useful information about Target Clearance pricing in the US and I feel it might apply to Target Canada as well although I'm not sure to what extent. If anyone works at Target and can provide more information that would be greatly appreciated!
Every Target shopper needs to know this:
The best to know if an item is on final clearance is to look at the tiny number in the upper right hand corner of the clearance tag. Generally, it goes 15, 35, 50, and finally, 75/80 percent off. After the 75/80 final markdown, the item is removed from the store, "salvaged", and donated or sent back to the supplier.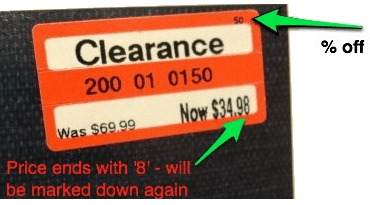 Furthermore, If the price ends in 8, it will be marked down again. If it ends in a 4, it's the lowest it will be.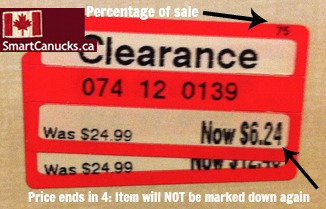 Target's mark down schedule (this may vary from store to store though so just use it as a rough guide):
Monday: Kids' Clothing, Stationary (office supplies, gift wrap), Electronics.
Tuesday: Women's Clothing and Domestics.
Wednesday: Men's Clothing, Toys, Health and Beauty.
Thursday: Lingerie, Shoes, Housewares.
Friday: Cosmetics.
If anyone works at a Target Canada store and has more information about this please let us know