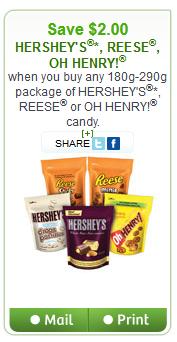 If you have the coupon shown above, valid for $2 off the purchase of Hershey's, Reese, or Oh Henry candy, you can use this coupon to get free chocolate from Target Canada. Thank you to forum member steph13 for posting about this deal. Target Canada currently has 12 packs of snack size Hershey chocolate bars, including Oh Henry, and Reese, on Temporary Price Cut for $1.89 until April the 24th. Use your $2 coupon and get free chocolate!
The weight of the 12 pack of snack size bars meets the requirements stated on the coupon, with the exception of the Cookies and Cream variety of the Hershey Bars. The coupon is still available through WebSaver.ca. You have the option to print the coupon or have it mailed to your home.
Click here to get the coupon from WebSaver.ca.