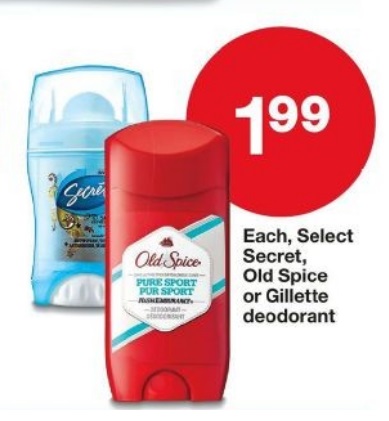 Beginning today, Friday, September the 19th, 2014, Target Canada has Secret, Old Spice, and Gillette deodorant on sale for only $1.99. Target Canada allows you to stack Target Exclusive coupons with manufacturer coupons, and every so often this works out to a really great deal. This week  you can get Secret Deodorant for free! There is a Brandsaver coupon for $1 off the purchase of any Secret deodorant. There is also a Target Exlcusive coupon for $1 off the purchase of any Secret Deodorant. Combine these two coupons and the Secret is yours for free.
Unfortunately the Secret coupon is not available to be printed through the Target coupon portal. This Target Exclusive coupon is part of a coupon booklet that is available in stores only, so check at the front of the store, or near the Pharmacy.
Click here to find a Target Canada near you, or to print other Target Exclusive coupons.