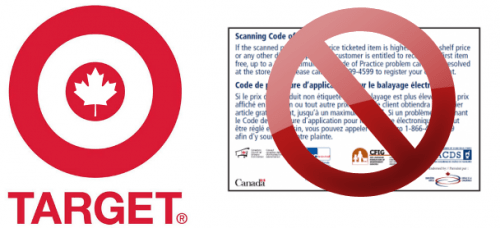 There has been a lot of discussion about Target's new policies and some confusion with US policies posted as Canadian ones across the web, but it looks like the Scanning Code of Pratice (SCOP) will not be a policy… for now.
The Scanner Price Accuracy Voluntary Codes is currently considered voluntary in all provinces except Quebec, where it is required. We will not formally be participating in the code for Year 1 in Canada anywhere but Quebec.
Target has systems and pricing tools in place to ensure stores are accurately priced. It's our priority to ensure guests leave happy. We support the Scanner Price Accuracy Voluntary Codes so that Canadians can benefit from competitive prices and quality service.
We intend to participate as soon as our Canadian teams, systems and processes have been fully established. Target has a longstanding commitment to delivering our "Expect More. Pay Less" brand promise to all of our guests, and we are pleased to offer 5% savings to our Canadian guests through our REDcard program.
Thanks to Savings4me for this response from Target, since they ignored my question on it when I replied and sent me a standard coupon reply.  You would think that SCOP would help get their teams full established from the start.  If it turns into a Zellers constant pricing fiasco, they have lost my business.