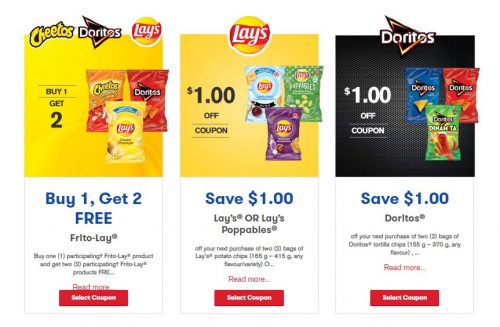 The Tasty Rewards Canadas coupon portal has a new coupon available, and it's the return of a high value coupon that we saw last year. Click the link below to print a buy one get TWO free Frito-Lay coupon!
This coupon is valid on the larger family size products, and here is a complete list of the products that it may be used on:
Ruffles 350g
Cheetos 390g
Tostitos 320-480g
Doritos 370g
Miss Vickies 275g
Smartfood 305g
You are able to print two coupons per Tasty Rewards account, and the coupon will be valid for about 30 days. Last year there were so many people trying to get the coupon and the site became really busy. The coupon ended up being available for quite some time though, so if you have any issues getting the coupon simply try again later.
Click here to print your buy 2 get 1 free family size Frito-Lay products coupon from Tasty Rewards Canada.