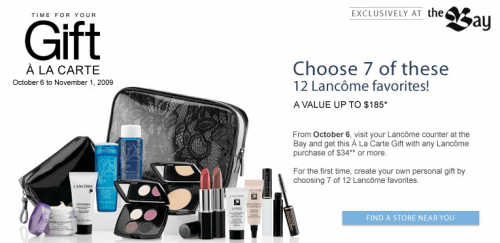 From Oct 6 – Nov 1 you can get an awesome Lancome gift with $34 purchase at The Bay. This gift with purchase is extra awesome because you get to choose the 7 gifts (with a free bag and companion) that you want to include in it, from the 12 Lancome favourites!
Here are the items you get to choose from:

I think this "a la carte" way of doing gift with purchases is really neat, although in the fine print it says all 7 items must be different, so you can't stock up on one item alone. I am already mentally ordering in my head which freebies I want!
To locate the closest Bay store near you, click here.
And for more information and to print off your card with freebie selections click here.