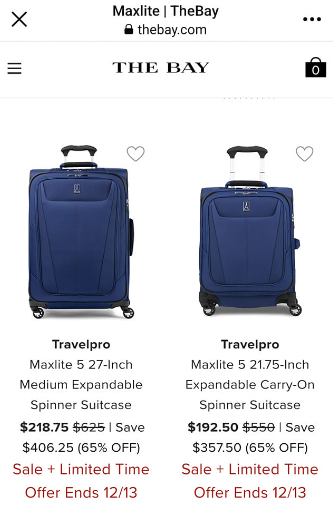 The Bay Canada has a sale and a limited offer on Travelpro Maxlite luggage, resulting in a discount of 65% on most pieces until tomorrow, December the 13th. Here are some of the items you can purchase for 65% off:
Maxlite 5 International 21.75 Inch Carry-On Spinner Suitcase $77 (was $219.99)
Maxlite 5 Backpack $52.50 (was $149.99)
Maxlite 5 Rolling 17.5 Inch Underseat Bag $59.50 (was $169.99)
Maxlite 5 27 Inch Medium Expandable Spinner Suitcase $218.75 (was $625)
Maxlite 5 31 Inch Large Expandable Spinner Suitcase $245 (was $700)
Maxlite 5 Soft Tote Bag $73.50 (was $209.99)
If you have an HB Mastercard, shipping is free on orders of $39 or more. For all other orders shipping is free with a $69 purchase. If you need anything by Christmas you can check the expected delivery date on the product page and at checkout.
Don't forget about the e-Gift card promo as well. If you are making a purchase, buy yourself a $100 e-Gift card first and use it for your purchase. You will get a promotional $15 e-Gift card when you buy the $100 e-Gift card.
Click here to shop Travelpro Maxlite luggage 65% off at The Bay