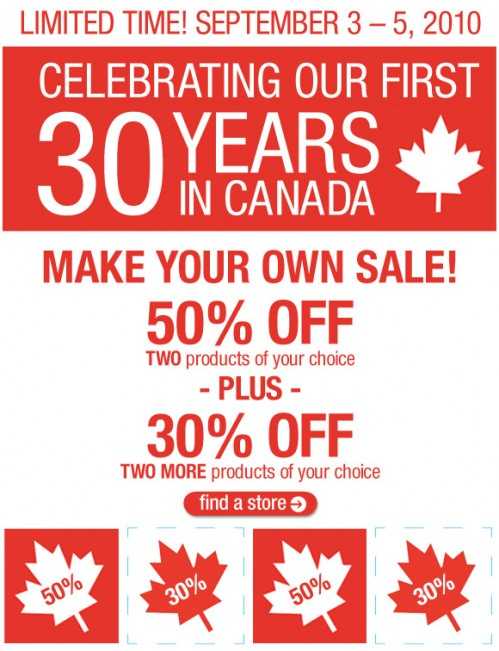 Make Your Own Sale Special Offer Terms and Conditions: Sticker sheets will be distributed in-store from September 3-5, 2010 and are redeemable for in-store purchases only in Canada during such dates. Each sheet will contain 2 stickers at 30% off and 2 stickers at 50% off. Customers are to place the stickers on any product of their choice to receive the discount indicated on the sticker. Stickers must be redeemed in the following sequence: 50%, 30%, 50%, 30%. Only original stickers shall be honored and only one sticker may be placed on any product. Stickers must be surrendered at the register for redemption. Offer excludes charity items, gift cards, LOVE YOUR BODY™ membership cards and pre-made gifts. LOVE YOUR BODY™ discount is applied after all other discounts. Offer cannot be combined with any other coupon. Offer can be used in conjunction with LOVE YOUR BODY™ Membership Card and the current in-store promotions. Offer good while sticker supplies last. Not valid online.
What a great promo! I know where I'm going tomorrow!
Thanks to AnnieP for also posting this deal in the Canadian Deals forum.