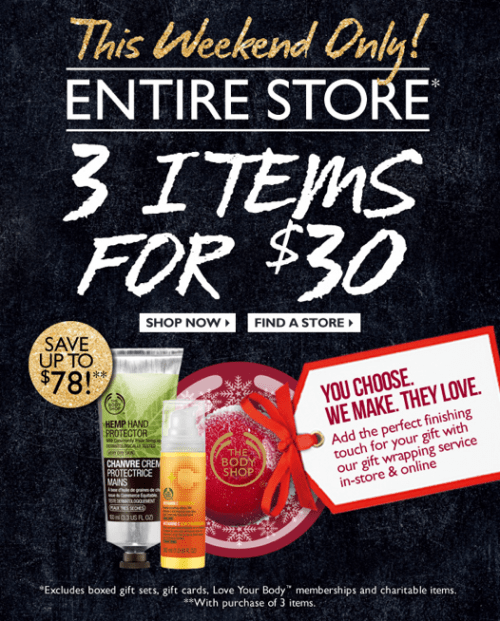 It's back! All weekend long (ends December 16th), you can shop and save in-store at The Body Shop with the purchase of 3 items for only $30!
If you're like me, you're probably thinking, 'but they just had their 50% off sale!?' – Ahhh, yes. But! During this sale, think make-up and their quality $20+ skincare products. 😉
During their last 3 for $30 sale (which wasn't that long ago), I decided to try their new 'Vitamin C Skin Boost' and I'm going to sound like such a girl when I say this, but 'omigosh, it's the best product ever'… ha! I honestly wish I had stocked up (guess what I'll be doing today, lol) – especially given its regular price at $26 – Ouch!
I had a beauty mission in mind: the eye area and during my last trip to the The Body Shop I had a couple of items in the Vitamin C line that piqued my curiosity: their Eye Reviver Duo and their Skin Boost. Keeping price, value and volume in mind, I decided on the Skin Boost, figuring it should provide the same results as the little roll-on stick, and then some.
And wow! Thanks to this product I wear zero eye corrector make-up, any dark shadows seem to fade away. My eyes feel refreshed and awake –  and the delicate citrus scent I absolutely love! A little goes a long way, although you may find yourself wanting to reapply as the burst of oranges and silky feel is quite addicting, lol. If you decide to try any product this weekend, I definitely recommend that you try their Vitamin C Skin Boost. A savings of $16 (before tax) at only $10 this weekend! 😀
What's your favourite The Body Shop product?