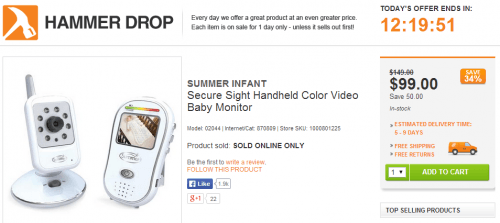 Check out this Fabulous The Home Depot Canada Hammer Drop Deal of the Day!
I have to admit that quite regularly the Home Depot Hammer Drop Deal of the Day is not very interesting! Today is different! Today, July 7th, at Home Depot Canada Online you can purchase the Summer Infant Secure Sight Handheld Color Video Baby Monitor for only $99! That is a big savings of $50 off the regular price.
When I found out I was having a baby, this is one of the items on my "need" list! I thought it would have been great to be able to see why my baby is stirring, or even if he is awake and not crying yet. I never did end up getting one because of the outrageous prices. If this deal was available while I was pregnant or while my son was still an infant, I definitely would have taken advantage of this offer!
Don't forget that you will also enjoy FREE Standard Shipping on most items from The Home Depot Canada Online with no minimum purchase. This offer is available for a limited time only.
Click here to check out the Home Depot Canada Hammer Drop Deal of the Day!