An anon poster posted an awesome story about NYF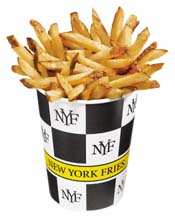 I just recently started to work at South St. Burgers. This is a fast food joint, and its owned by New York Fries. The burgers here are so delicious. Check out their website www.southstburger.com. The store sells New York Fries, and I actually learned a couple of their secrets on how to make good fries. By the way, there are only two of these stores in the World. They are starting to expand their chain (its owned by NY Fries).
One secret that makes New York Fries taste so good, is because the potatoes they use have sugar in them. When the potatoes are harvested, and when they are being processed, they are soaked in Sugar. So basically there is some sugar in New York Fries. Also another thing is that, NY fries, cooks its Fries in three different stages. First they cut the fries, and then they scoop a basketful, and place it in low temperature oil, until the skin starts to wrinkle. Then, after that step, they put it in another oil which is slightly higher in temperature and they take the fries out when the fries start to turn a little yellow. And then they hang it. So when people come to buy the fries, they fry it in a third oil, which has an even higher temperature than the previous two oils. And finally when the fries turns golden yellow its ready to serve.

Also please go to one of the two South St. Burgers that have opened so far. One is around Finch Station and the other is around Eglinton and Laird (these are in Toronto).

Also check this website if youre in Search of the Perfect French Fry.