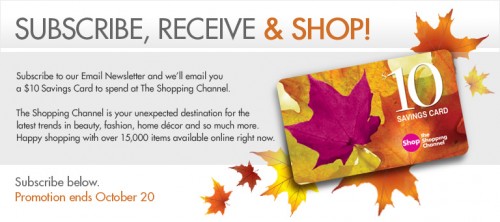 Are you a Shopping Channel fan?  If you are, or want to be, you can get a $10 savings card when you sign up for Shopping Channel email newsletters.  I couldn't find any information as to whether you had to spend a minimum amount to use the $10 savings card.  I signed up just now and haven't received mine yet.  I'll update when I know for sure.  Either way it's a great deal for just signing up for a newsletter.  This promotion is running through October 20.
Click here to sign up for The Shopping Channel emails.
Thanks to couponlady for posting this freebie for us.