The Source Canada is offering all Canadians an amazing contest where you can be entered to win a grand prize valued to be worth $459.98 retail, and the best part is you don't have to buy anything to qualify for it. You will have a chance to enter into the contest between now and April 24, 2017 at 11:59pm ET, and after that you will be one of many who could have a chance to win an Xbox One S 500GB Halo Collection Bundle and a copy of Mass Effect Andromeda.
There will be a total of two grand prizes given away, and each of these prizes will include all of the aforementioned goodies. To enter, you will first have to go to The Source Canada's Facebook page and then comment on the Source's Contest posts with a description of your favourite video game that is set in space and give brief description about why you love it.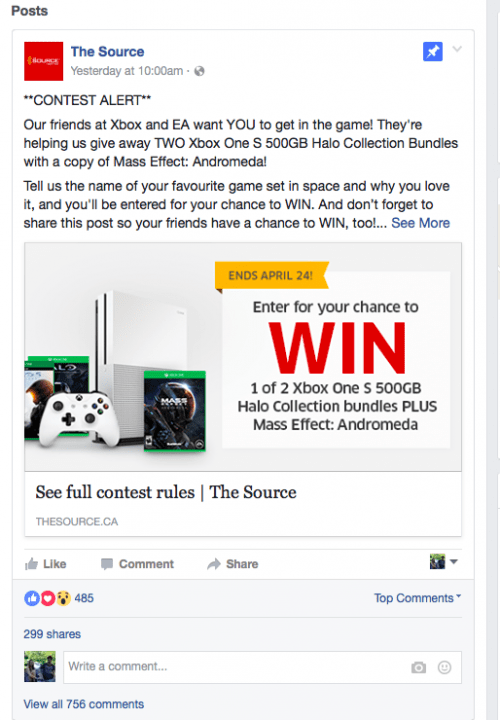 Included in this post must be a link to the contest's terms and conditions, to show that you have read and understand them. After that, you will be automatically entered into the contest. There is a limit of one main entry per person, but if you'd like to add an additional entry, you can sign-up to receive e-mails from the Source in the link provided on the contest post on the Facebook page.
The drawing for this contest will be taking place on April 26th, 2017 at 10:00am ET.
A note of caution, it seems like a lot of people are heading over to the Facebook page to enter into the contest, so you may have to try reloading the page after a couple of minutes if you're not able to get on there right away.
Click here to learn more about the contest from the Source Canada.