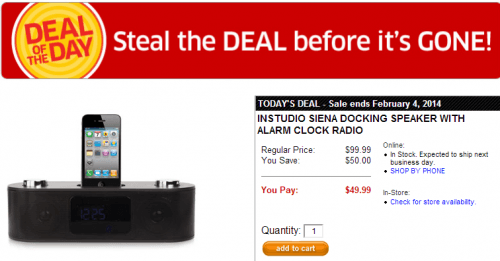 Shop at The Source to enjoy this circuit breaking Deal of the Day! On Saturday, January 26th 2014 you will be able to purchase the Instudio Siena Docking Speaker with Alarm Clock Radio for a sweet price of only $49.99. This Docking System is regularly priced at $99.99. What makes this deal even better? You will also receive FREE Standard Shipping since your order is over $20.
Wake up to your favourite music with this inStudio Siena Docking Clock Radio from The Source. You will be able to charge and play your iPod or iPhone with great sound. This The Source Deal of the Day is available in stored and online, January 26th 2014 only.
Also, since The Source is currently upgrading, orders will not be shipping until January 29th 2014. To make up for this, The Source will give you a $10 Gift Card on any order over $50! Unfortunately when purchasing this inStudio Siena Docking station for your iPhone or iPod, you are $0.01 short of receiving the $10 gift card from The Source. Add the $0.99 Affinity Touchscreen stylus for iPad or iPhone to your order, and you will be good as gold! 
Click here to check out today's The Source Deal of the Day.