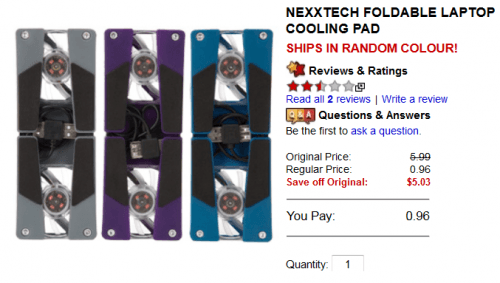 The Source Canada has a hot deal on right now! Head over to The Source and you could purchase a Nexxtech Foldable Laptop Cooling Pad for just $0.96 (was $5.03). If your laptop tends to overheat with everything you've got running on it, you can keep it cool with this foldable cooling pad. The 4 feet fold up in a lightweight, space-saving design that's easy to slip into your laptop bag and take on the go. The cooling pad uses 2 55mm fans to generate airflow and keep your laptop nice and cool. The cooling pad requires you to plug it in via USB, but it includes an extra USB hub so that you don't lose precious input space! Customers who have bought this note that it is quite small when compared to normal cooling pads, but does the job and is perfect to take with you while travelling.
The Source provides free shipping on most orders over $25. You can also go for free shipping to your nearest store. Note that this item ships in random colours, so you can't choose! This deal is on for a limited time only while supplies last.
Click here to purchase the Nexxtech Foldable Laptop Cooling Pad online from The Source Canada.