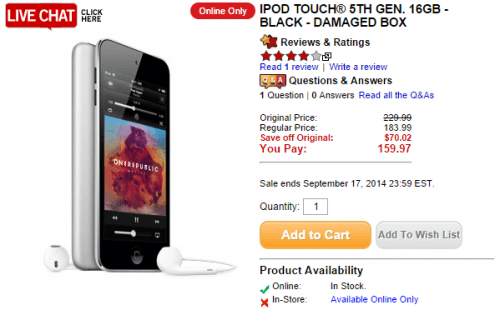 Wow! Here is a scorching hot deal from The Source Canada Online!
For a limited time (or while supplies last) you can shop at The Source Canada Online and purchase the iPod Touch 5th Generation 16GB in Black for only $160 as opposed to the regular price of $230. What is the catch, you ask? The product will be in perfect condition- but the box is not. The box will have some sort of damage on it but they promise the product is not going to be affected.
This The Source Canada Deal on the iPod Touch 5th Generation is available only. You can choose between FREE shipping to your door or FREE 3-5 day in store pickup. This model features only one camera, but you can discover music, movies and more from your iTunes store. You can also browse for apps and download addicting games. You will love the fact that you can use Siri, iMessage and have Facebook integration, Game Center and more!
Click here to check out this The Source Canada Deal.
Also, click here to get all The Source Canada online offers.